June 3, 2007 - September 23, 2007

Common Threads


Co-produced by the Illingworth Kerr Gallery and the Confederation Centre Art Gallery
Curated by Lee Plestad

Confederation Centre Art Gallery, Charlottetown PEI
June 3 - September 23, 2007

Illingworth Kerr Gallery, Calgary AB
November 22, 2007 - February 5, 2008


Alexandra Bircken (Germany), Anders Bonnesen (Denmark), Suzen Green (Newfoundland), KnitKnit/ Sundown Salon (NYC/ LA), Instant Coffee (Toronto/ Vancouver), Cary Leibowitz (NYC), Judith Scott (Oakland), Steven Shearer (Vancouver), Kathy Slade (Vancouver), Lucy Pullen (Victoria), Rosemary Trockel (Berlin), Francesco Vezzoli (Milano) and Charlottetown's very own, Rilla Marshall.

'Common Threads' weaves together work by a stellar group of international artists interested in knitting and embroidering as an artistic strategy for contemporary art. Influenced by various social histories of the handmade, conceptual and process art, as well as populist and communal cultural production, these artists take crafts' materiality and social potential as a starting point and subject. Negotiating the pressures of contemporary life, the artists in Common Threads refer and resort to the act of making, forming an individualized and expressive critique. Memories of utopian modernity are referenced and reworked, exploring the ideological influence on our contemporary material environment. In doing so, these artists create works that actively address the utopian proposals which emerged from various late 20th century artistic practices, taking up these models today for a critical investigation of the contemporaneous role of textiles.

Knitting has emerged as one of the most popular social and artistic activities of our time. Its presence in recent contemporary art is an analogous trend. The social and artistic organizations that have emerged in both spheres bring together organized and disparate groups of people in the act of making, conversing or simply enjoying these craft based projects. In conjunction with the exhibition, local events will be organized to bring together artisans, knitting clubs, children and adult art programs and art therapy groups- anybody that wants to knit. These projects will be documented and form an on going archive of social interaction propelled by the show.

Ultimately the exhibition privileges the amateur. This gesture to unalienated production is formed on a few levels. First, the works speak to a broad and culturally diverse audience that readily acknowledges the interplay between high and low art forms. Knitting, as a populist activity, has been referred to as 'the new yoga', a relaxing methodology for spending leisure time. Knitters and embroiderers of all ages can unite in their passion for twisting threads into creations. The exhibition also has a strong amateur music motive, from Kathy Slade's, Guitar Charts to Instant Coffee's, Bass Benches, complete with an interactive 45 rpm turntable. The music lover is positioned right along side the nurturer of craft practices. As Kate Rimmer mentions in her essay on Slade's work, "Learn three chords and start a revolution." This DIY declaration of a craft utopia provides a spring board to these optimistic projects, with many of the artists weaving a light hearted pop star attitude as a leitmotif.

Local groups and the general interested public will be invited to meet in the exhibition spaces to sit in the Sundown Salon Geodesic Dome tent and actively knit to 'Music to Knit To'- a CD compilation of music produced by Sara Grady and Sabrina Gschwandtner. Common Threads was truly organized to communicate through its accessible materialism, popular cultural references and direct interactivity.

A fully illustrated catalogue is in production and will include the artists' projects, curatorial statement, knitting patterns and event photos.

From Vancouver, B.C., Curator Lee Plested was the Ken and Vicki Logan scholar in the Curatorial Practice Program at California College of the Arts, San Francisco, where he received his MA in 2005. Plested has curated many shows in San Francisco, New York and Charlottetown, and has received professional accolades for his efforts.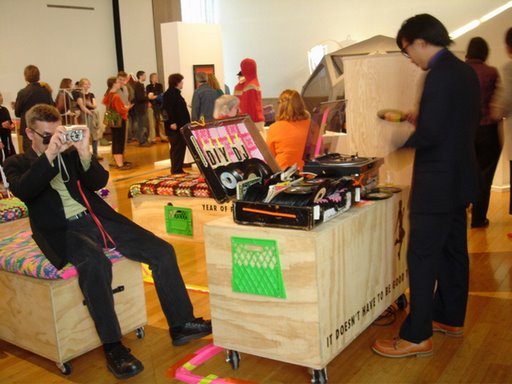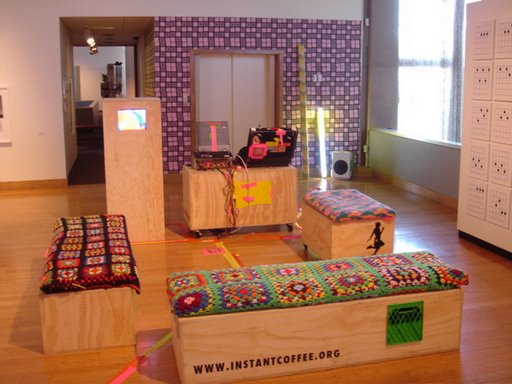 PEI installation, Instant Coffee 2007



Calgary installation, Instant Coffee 2007