The Americas Society




AS A SATELLITE FOR INSTANT COFFEE


New York City



October 10 - 14 2003




The Americas Society is pleased to host Instant Coffee, a service oriented collective of artists, writers, curators, designers, and code writers based in Toronto, Canada. Instant Coffee's programs in New York City are part of AS A SATELLITE, a program with independent cultural initiatives in Latin America, Canada, and the Caribbean. AS A SATELLITE for Instant Coffee will include the work of dozens of artists through a number of events, from slide-talks to video screenings to performances, and will take place at various venues in New York City, including Instant Coffee's Urban Disco Trailer (UDT), a retro-fitted, 1972 Holiday Cruiser.

SATELLITES SNAPSHOT (detailed programme below)

Fri, Oct 10, 7–10 PM - The Americas Society
Sat, Oct 11, 12-7 PM - Printed Matter
Sat, Oct 11, 8ish PM - apexart
Sun, Oct 12, 3-8 PM - Parlour Projects
Mon, Oct 13, 12-6 PM - Momenta Art
Mon, Oct 13, 7:30 PM - 16Beaver
Tue, Oct 14, 12-5 PM - Artists Alliance, Inc.
Tue, Oct 14, 7-9 PM - Participant, Inc

INSTANT COFFEE

Instant Coffee has developed a practice that culminates in bringing together large numbers of artists, designers, musicians, and other cultural producers under loosely themed events. They offer networking services that promote local, national and international activities and publish a monthly on-line magazine, Instant Coffee Saturday Edition. Consistent members are Cecilia Berkovic, Timothy Comeau, Jinhan Ko, Kate Monro, Jenifer Papararo, and Jon Sasaki.

AS A SATELLITE

A program with independent cultural initiatives in Latin America, Canada, and the Caribbean, which consists of positioning and using The Americas Society as their satellite for the production of exhibitions and event-based projects in New York. AS A SATELLITE is made possible through the generous support of The Andy Warhol Foundation for the Visual Arts. Additional support was provided by the Elliott Family Foundation, the Canadian Consulate General, New York, and was made possible thanks to the following groups and institutions: 16Beaver, apexart, Artists Alliance, Inc., Momenta Art, Parlour Projects, Participant, Inc., and Printed Matter, Inc. Founded in 1965, the Americas Society is a unique national not-for-profit institution with a mission to promote a better understanding in the United States about the cultures and societies of Canada, the Caribbean, and Latin America.

The Americas Society
http://www.americas-society.org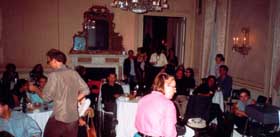 DAY 1 - Fri. Oct. 10 NIGHT: 7­10 p.m.
Pony and Donkey Show and Tell
The Americas Society, 680 Park Ave.
(Located at the Corner of 68th St. in the Upper East Side)
Upper East Side Style Mansion performances. Love lost: 'Love Doesn't Live Here Anymore,' a narrative slide show by playwright and Novelist Darren O'Donnell (Canada); Bird Calls: 'Industrial History for Safety Gear for Small Animals,' a sensical lecture by artist Bill Burns (Canada); and Dress up: 'Tops and Bottoms,' a visual presentation by artist Karen Azoulay (Canada). Videos: 'Smaller and Easier to Handle' by Kristan Lucas (USA), 'Telepathacats' by Fastwürms (Canada) and 'Free Dance Lesson' by Paige Graitland and Day Milman (Canada). Bullhorn: Jinhan Ko; Interlude: Michael Buckland (USA/Canada), and all the hits by Mary Kay Olsen. Dress code in effect. Prizes just because. Open bar, need we say more.

DAY 2 - Sat. Oct. 11 DAY: 12-7 p.m., Reception: 5-7 p.m.
Stencils just seemed like the right thing to do
Printed Matter, Inc., 535 West 22nd St.
(Located between 10th and 11th Streets in Chelsea)
During the day, Instant Coffee will open the Urban Disco Trailer (a retro-fitted, 1972 Holiday Cruiser) in front of Printed Matter, and display various artists' multiples they've commissioned and produced. With a cocktail reception in the evening, Printed Matter launches Artists' Stencils, Instant Coffee's latest multiple. Midi in/Midi out, a music cd by Instant Coffee, distills some of their favorite eighties pop-synth songs down to bare beats and underwhelms the evening.
Participating Artists: Acamonchi (USA/Mexico), Michael Barker (Canada), Cecilia Berkovic (Canada), Michael Buckland (Canada), James Carl (Canada), Kelly Coats (Mexico/USA), Timothy Comeau (Canada), Dave Dyment (Canada), Fastwürms (Canada), Jill Henderson (Canada), Instant Coffee (Canada), Luis Jacob (Canada), Jinhan Ko (Canada), Nestor Kruger (Canada), Colleen Langford (Canada), Kate Monro (Canada), Will Munro (Canada), Richard Moszka y Juan Pablo Garcia (Mexico/Canada/Spain), Jade Rude (Canada), Jon Sasaki (Canada), Kika Thorne (Canada), and Holly Ward (Canada).
Artists' Stencils will be on exhibition and for sale at Printed Matter. It is a limited edition of two hundred, and includes works by 22 artists. This project was commissioned and produced by Instant Coffee on the occasion of AS A SATELLITE.
Printed Matter, Inc. is an independent non-profit organization founded in 1976 by artists and art workers with the mission to foster the appreciation, dissemination, and understanding of artists' books and other artists' publications. Printed Matter, Inc. is not affiliated with, nor a division of, any other non-profit organization. For more information: www.printedmatter.org

DAY 2 - Sat. Oct. 11 NIGHT: 8ish p.m.
Crashing at Sábado Gigante
apexart, 291 Church Street
(Located between Walker and White Streets, Southof Canal St.)
Tapping their audience. Instant Coffee and the Urban Disco Trailer crash the opening of TO BE POLITICAL IT HAS TO LOOK NICE, a group exhibition featuring artists and collectives of Latin America, curated by Pablo Leon de la Barra, at apexart and Art in General. For more information: www.apexart.org.

DAY 3 - Sun. Oct. 12 DAY & NIGHT: 3-8 p.m.
Blood & Swash 3
Parlour Projects, 214 Devoe St. #1
(Located between Bushwick Ave. and Humboldt St. in Williamsburg, Brooklyn)
Blood & Swash 3 is a provisional multi-disciplinary tattoo parlor and drop-in center performance /installation project by Fastwürms, featuring freehand felt-tip tattoos on skin or denim, a sample display of denim flash, DJ/VJ social exchange collaborations and House of Bast party dynamics. 'Get inked sharpie style by witches.' :ic:
Formed in 1979 by Kim Kozzi and Dai Skuse, Fastwürms is the trademark and joint authorship of these Toronto and Creemore-based multidisciplinary artists whose art projects mind melds high and pop cultures, bent identity politics, social exchange performance, DIY positive cinematic sensibility. Fastwürms representational politics are complex subversive; critical aesthetics inclusive with a bent towards Witch working class, event architecture collaborations, and queer alliance.
Blood & Swash 3 also features artist Jill Henderson as Denim Witch 3. Jill is a Scots-Canadian whose output is a free-range stew of the comic, the crass, and the devalued poetic politics of the thinking girl.
Established in 2000, Parlour Projects is a non-commercial space in Williamsburg (Brooklyn, New York) that organizes and presents artists' solo-exhibitions, giving particular attention to performative and interactive work. Its program has included exhibitions by Allora & Calzadilla, Anoka Faruqee, Forcefield, David Lamelas, and Alejandra Seeber, among other artists. Parlour Projects is programmed by Dean Daderko. For more information: www.parlourprojects.com.

DAY 4 - Mon. Oct. 13 DAY: 12-6 p.m.
Alchemy & Mysticism no.2
Momenta Art, 72 Berry Street
(Located between N9 and N10 in Williamsburg, Brooklyn)
A salon style painting show in the Urban Disco Trailer. In addition, a particular mix of things. See you on Berry Street. Participating Artists: Robin Arseneault, Temple Bates, Cecilia Berkovic, Amy Bowles, Jordan Broadworth, Crystal Bueckert, Ulysses Castellanos, Timothy Comeau, Ed Deary, Janis Demkiw, Fastwürms, Eliza Griffiths, Eric Glavin, Anitra Hamilton, Kathleen Hearn, Jill Henderson, Jay Isaac, Michael Klein, Jinhan Ko, Germaine Koh, Mara Korkola, Colleen Langford, Derek Mainella, Kate Monro, Jade Rude, Rupen, Kathryn Ruppert, Jon Sasaki, Monica Tap, Christy Thompson, Lex Vaughn and Jay Wilson. All Canadian.
Momenta Art is a not-for-profit, artist-run exhibition space. Its mission is to promote the work of emerging artists through exhibitions, newsletters, and most recently a new residency program. Momenta Art was founded in Philadelphia in 1986 and, since 1995, its exhibition space is located in Williamsburg (Brooklyn, New York). For more information: www.momentaart.org.

DAY 4 - Mon. Oct. 13 NIGHT: 7:30 p.m.
Regular Mondays
16Beaver, 16 Beaver, Room 5
(Located in the Financial District, downtown New York)
Craig Buckley in conversation with LTTR (Lesbians to the Rescue) and Instant Coffee.
LTTR is a journal of art, queer theory, photo and music put together by Ginger Brooks Takahashi, K8 Hardy, and Emily Roysdon. They just released issue 2, and it's very good work. Craig Buckley is a young, Canadian independent curator and writer based in New York City.
16Beaver is a space initiated and run by artists to create and maintain an ongoing platform for the presentation, production, and discussion of a variety of artistic, cultural, economic, and political projects. Since 1999, 16Beaver has organized Monday Nights, which include presentations, readings, discussions, screenings, and panels with and by artists, curators, thinkers, writers, and activists. For more information: www.16beavergroup.org.

DAY 5 - Tues. Oct. 14 DAY: 12-5 p.m.
Sorry, We're Open
Artists Alliance, Inc., 107 Suffolk Street, #411
(The Parking Lot is located in the back of the building, on Norfolk St., in the Lower East Side)
The Urban Disco Trailer as usual in the back parking lot. Open for social locations. Take away give aways. No surprises.
Participating artists: Instant Coffee
The Artists Alliance, Inc. (AAI) is a grass roots not-for-profit arts organization composed of artists from a broad spectrum of national backgrounds, working in a variety of media. AAI is dedicated to promoting discussion and awareness of the visual arts, sharing information with the public, promoting interaction with local communities, and providing forums for artists. For more information: www.artistsai.org.

DAY 5 - Tues. Oct. 14 NIGHT: 7-8:30 p.m.
Alchemy & Mysticism #no.1
Participant, Inc., 95 Rivington St.
(Located between Ludlow and Orchard Streets in the Lower East Side)
A screening of music-based videos, turning basements into gold. Participants: Meesoo Lee with The Radio (Canada), Scott Russell (Canada), Galia Eibenschutz + Alexis Zabe (Mexico), Txema (Mexico), Pedro 'zulu' Gonzalez (Mexico), Peaches by Lisa Kannako (Canada), Silverio by Miguel Calderon (Mexico), Jinhan Ko (Canada), Tony Romano & Shayne Ehman with the Grassy Knowles (Canada), Jon Sasaki (Canada), Paige Stain (Canada), Jordan Sonenberg with the Evil Plans (Canada), Hidden Cameras by Laura Cowell (Canada), Chris Mills (Canada), and Greg Hefford (Canada), plus a special screening by LTTR (USA) and Matthias Fritsch (Germany). Alchemy & Mysticism no.1 is a limited edition DVD video compilation produced by Instant Coffee with the financial assistance of The Edmonton Art Gallery, Canada.
Participant, Inc. is a not-for-profit alternative art space on the Lower East Side ­ a laboratory for exhibitions, screenings, performances, publications and educational programs that reflect the cultural moment and encourage artistic experimentation. For more information: google it.